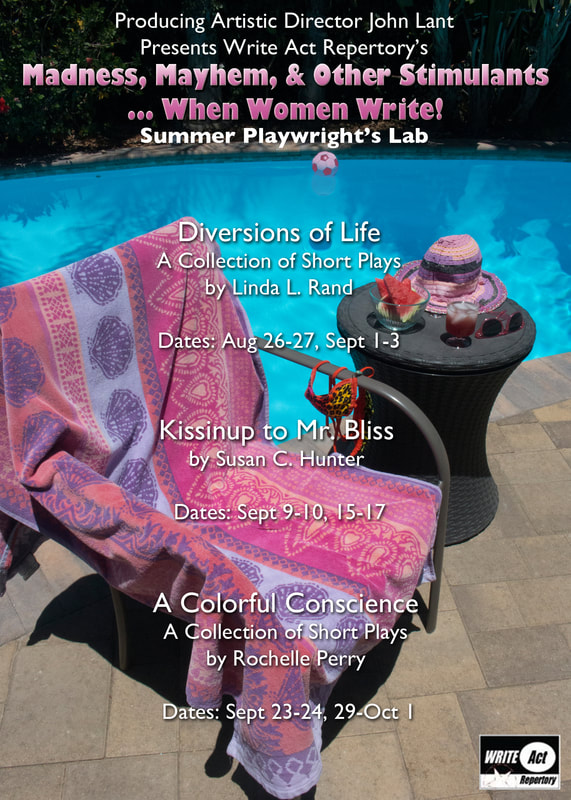 MADNESS, MAYHEM, and OTHER STIMULANTS …
When Women Write! Summer Playwright's Lab 2017 – Write Act Repertory's annual women's playwrights returns in our new home spotlighting three prominent Los Angeles playwrights. Write Act Rep's
Spotlight Series
provides an opportunity for Write Act Rep artists-in-residence featuring a principal performer's written word, with the support of fellow Write Act members. Write Act Rep picks a writer's body of work as a focus for our playwriting groups we work with here. In the past, Write Act Rep worked with members of Los Angeles Playwrights Group, ALAP, At-Rise Playwrights and Women Inventing Theatre.
Produced by John Lant, in association with and written by Linda L. Rand, Susan C. Hunter and Rochelle Perry, with Michael Eiden. Production Stage Manager / Associate Producer: Jonathan Harrison. Lighting Design: Ken Cosby. Graphics: Rochelle Perry. Additional Technical Support: Alonzo Tavares.
Festival Series A – Diversion of Life – A collection of short plays written by Linda L. Rand
Plays run from August 26th – September 3rd, 2017
Festival Series B – Kissinup to Mr. Bliss – Full length play written by Susan C. Hunter
Play runs from September 9th – September 17th, 2017
Festival Series C – A Colorful Conscience – A collection of short plays written by Rochelle Perry
Plays run from September 23rd – October 1, 2017
Write Act Repertory
@ the Brickhouse
10950 Peach Grove Street
North Hollywood, CA. 91601
TIXS:
800-838-3006 – Tickets at: http://www.brownpapertickets.com
Regular Performances Fri & Sat 8:00PM and Sun 2:00PM
Additional info @:
www.writeactrep.org
/
www.facebook.com/writeactrepertory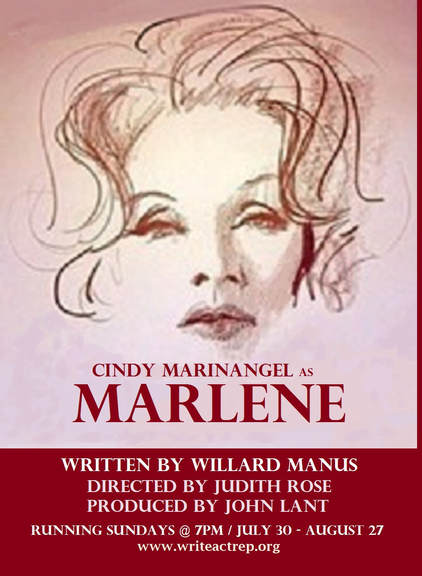 CINDY MARINANGEL STARS IN "MARLENE"

WORLD PREMIERE OF WILLARD MANUS' NEW PLAY ABOUT
THE LEGENDARY ACTRESS, PERFORMER-- AND PATRIOT-- MARLENE DIETRICH
DIRECTED BY JUDITH ROSE
PRODUCED BY JOHN LANT III

MARLENE will be performed every Sunday night at 7pm through August 27 at the Brickhouse, which is located at 10950 Peach Grove Street, at Camarillo & Vineland, in NoHo.
MARLENE tells a true story. In May, 1960, Dietrich returned to Germany to perform on stage for the first time since fleeing the Hitler regime in 1939. The play is set in Dietrich's dressing-room at Berlin's Tatiana Palast Theatre, where she is trying to decide whether she should go through with the recital. Threats have been made on her life by Nazi sympathizers who still resented her for having spent much of WW II entertaining American soldiers on the front lines. In their eyes she is a turncoat, a traitor, and should be killed..
Willard Manus has had numerous plays produced in L.A., most recently "Joe & Marilyn: A Love Story"and "Frank and Ava,". Among his other plays are "Prez: The Lester Young Story," "Bird Lives!" and "Berlin Cowboys.". He is also a journalist and novelist whose best-known work is "Mott the Hoople," the book from which the 70s British rock band took its name.
Manus is a member of the Actors Studio Playwrights/Directors unit and the Los Angeles Film Critics Association.
Write Act Repertory @ the Brickhouse Theatre, 10950 Peach Grove St., N. Hollywood, CA 9l601 (one block east of Vineland). Performances are July 23-August 27, Sunday nights only at 7pm. Tickets are $20. Visit
www.brownpapertickets.com
.