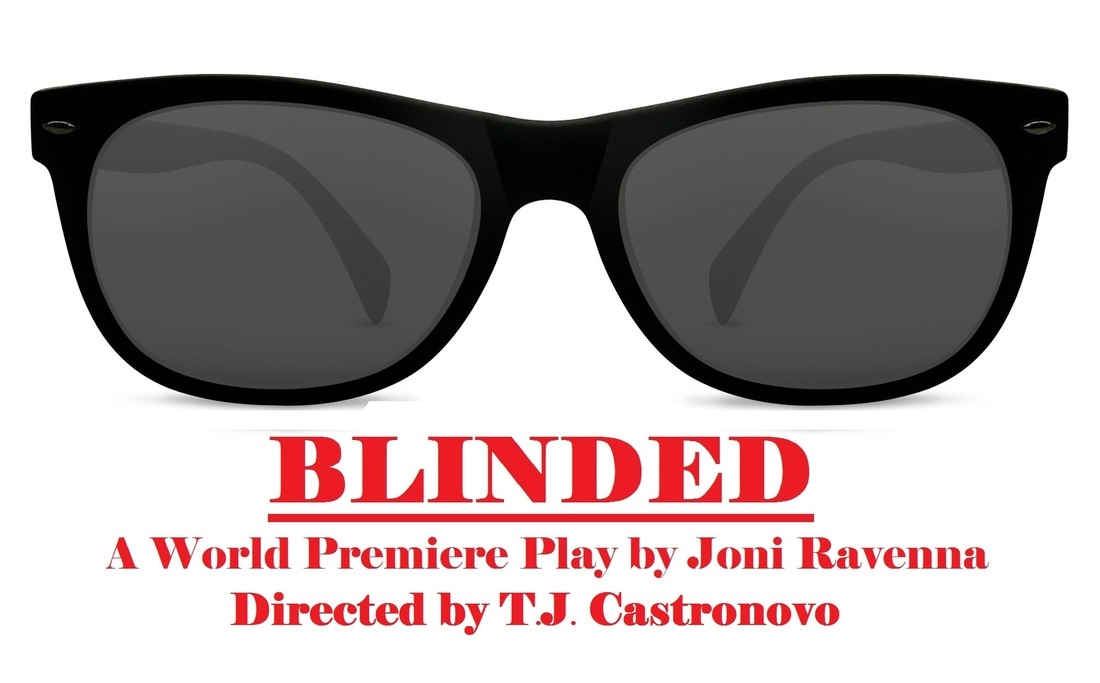 Opens Saturday, July 15, 2017. Runs through Sunday, August 13. Show times: Fri. & Sat. at 8:00, Sun. at 2:00.
ADMISSION: $25. Students and seniors $20.
RESERVATIONS: (800) 838-3006.
ONLINE TICKETING: http://www.brownpapertickets.com/event/2993431@ the Brickhouse

10950 Peach Grove Street




North Hollywood, CA. 91601
Seventeen years ago, Donald walked in on his mother in bed with someone other than his father. Whatever he saw that day was so devastating that his psyche refused to see another thing from that moment on. At 35, the hysterically blind Donald visits NYC's best shrink, Bob Schneiderman. Donald's last ditch hope before throwing in life's towel. However the doctor's highly unorthodox remedy includes an affair with Schneiderman's younger, beautiful wife, Bridget. There's only one caveat; Bridget can never find out Donald is blind.

Production Stage Manager: Jonathan Harrison, Casting: Jean Scoccamarro
Cast: Cindy Marinangel, Chris Muto, Marilyn Sanabria and Rico Simonini

Producer John Lant states "When TJ brought me this script, I had to do this play, and soon. I was quite moved by some of the moments and laughed out loud while reading at the local coffee shop. Also getting to work with TJ, and wonderful actors that grace Write Act's boards over the years Rico, Cindy and Chris was an added bonus. I can't wait for people to see Joni's work and have talented newcomer to Write Act, Marilyn Sanabria, join our proud history."
General Admission / Limited Seating / Refreshments / Air-Conditioned / Heated / ADA Compliant On-Street Parking / On-Site Box Office.

Joni Ravenna (Playwright)
After graduating USC, Joni's first play A Brush with Fate, ran at the West Coast Ensemble theatre in Hollywood in one of the early LA Fringe Festivals. Since then she's written several award-winning plays including For Pete's Sake (Brooklyn Publishers under pen name JR Sussman, winner DC Writers Guild, Finalist Playwrights Circle National Playwriting Competition), which ran at the Chance Theatre in Anaheim where it was nominated Best New Play by OC Weekly, and Beethoven and Misfortune Cookies, which was extended twice at The Odyssey Theatre due to critical acclaim after a short stint in the Midwest. Ravenna is also Co- Author of the book, "You Let Some GIRL Beat You? - The Ann Meyers Drysdale Story" (Behler Publications, 2012) which Forbes Magazine called "…a stunning portrayal of one of today's legendary women's basketball treasures." Ravenna has written for various magazines including Parenting OC Magazine (2004 to 2014) and she was head writer of the TV series Earth Trek (PBS, 2002). Other TV writing credits include: Great Sports Vacations (a 36 part Cable-Ace Nominated TV series for the Travel Channel), The Donovan Concert, Live at the Kodak, Judy, Frank and Dean, The Aging of America and Latin Legends at the Orpheus (PBS).

T.J. Castronovo (Director) T.J. receive the DramaLogue Critics Award for directing the stage play Brooklyn USA and The Musical Campaign at the Met Theatre in Los Angeles. He's directed off-Broadway Productions of Wild Mushrooms and directed productions of Viagra Falls, Sicilian Bachelor with other credits including Two by Two, and Wild Mushrooms at the Jefferson Performing Arts Center in New Orleans. His feature films include Double Revenge - the Shipment starring Matthew Modine, The Boilermakers starring John Savage, and Looking Up starring Steve Guttenberg. As a TV and Film producer his work includes 42 episodes of Tales From The Darkside and CBS movie of the week Police Brass starring Carroll O'Connor. T.J. has performed in more than 100 TV shows including Tommy the Bartender on Taxi for three seasons, 20 feature films and many stage productions including the recent Old Globe Theatre production of Breaking Legs written by Tom Dulack. Member of the Actors Studio Playwrights/Directors Unit.

John Lant (Producer)
John is a 35-year veteran in the entertainment industry and has been involved in over 600 television, film, music tours, and theatrical productions as a creative director, consultant, and/or above the line entity. An award-winning producer, director, writer, lighting and set designer, John has mounted productions at Cal Arts, Ricardo Montalban, Powerhouse, Glendale Center, Hollywood Playhouse, Long Beach Playhouse, the Jewel Box Theatres and Write Act Repertory. His work and productions garnered DramaLogue, Diamond, ADA Awards, and Garland, ADA and NAACP nominations, as well as LA Weekly and Backstage Picks of the Week. John worked with Jonathan Sanger at Chanticleer Films, on two shorts that won an Emmy and an Oscar, and mentored under Howard Storm. Scripts he has developed include Children's TV Pilots Symphology, Carrot Talk, and cable-themed Anonymous Confessions, and several adapted musicals. John received the California Service Award from the State Legislature for his Community Outreach and Service to the Arts in 2000, 2001, 2008 and 2009. In NYC, he is current Production Manager at Carnegie Hall, and on down time redesigns, redevelops and refurbishes theatres including the upstairs Davenport Theatre, Elektra Theatre, Times Square Arts Center Theatres, the Richmond Shepard, and a new exciting project Summer 2017, refurbishing an old off-Broadway in the Theatre District to its old glory. John's 30-week off-Broadway production of FABULOUS! The Queen of Musicals! was recently licensed through Steele Rights. This past year he produced two off-Broadway Shows at St. Luke's Theatre: Equity production of 2 By Tennessee Williams and the new musical Pillars of New York. Current Producing Artistic Director of Write Act Repertory and Founding Member of newly formed N.M.C.L.O. (New Musical Civic Light Opera), concentrating on the development of second stage full musical workshop / productions for off-Broadway shows, and is also the Director of Development for Twisted Media NYC. His current musical production Lili Marlene in LA will be moving off-Broadway in the Summer of 2017.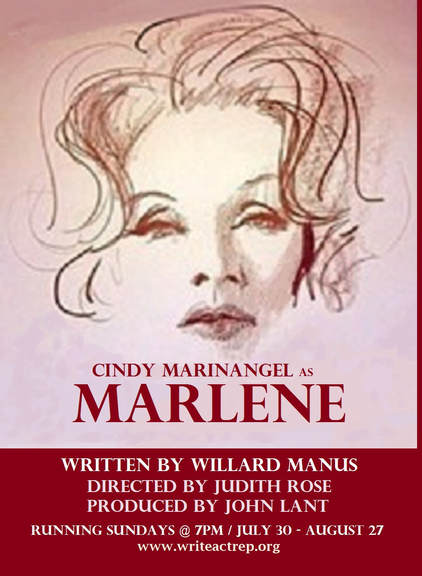 CINDY MARINANGEL STARS IN "MARLENE"

WORLD PREMIERE OF WILLARD MANUS' NEW PLAY ABOUT
THE LEGENDARY ACTRESS, PERFORMER-- AND PATRIOT-- MARLENE DIETRICH
DIRECTED BY JUDITH ROSE
PRODUCED BY JOHN LANT III

MARLENE will be performed every Sunday night at 7pm through August 27 at the Brickhouse, which is located at 10950 Peach Grove Street, at Camarillo & Vineland, in NoHo.
MARLENE tells a true story. In May, 1960, Dietrich returned to Germany to perform on stage for the first time since fleeing the Hitler regime in 1939. The play is set in Dietrich's dressing-room at Berlin's Tatiana Palast Theatre, where she is trying to decide whether she should go through with the recital. Threats have been made on her life by Nazi sympathizers who still resented her for having spent much of WW II entertaining American soldiers on the front lines. In their eyes she is a turncoat, a traitor, and should be killed..
Willard Manus has had numerous plays produced in L.A., most recently "Joe & Marilyn: A Love Story"and "Frank and Ava,". Among his other plays are "Prez: The Lester Young Story," "Bird Lives!" and "Berlin Cowboys.". He is also a journalist and novelist whose best-known work is "Mott the Hoople," the book from which the 70s British rock band took its name.
Manus is a member of the Actors Studio Playwrights/Directors unit and the Los Angeles Film Critics Association.
Write Act Repertory @ the Brickhouse Theatre, 10950 Peach Grove St., N. Hollywood, CA 9l601 (one block east of Vineland). Performances are July 23-August 27, Sunday nights only at 7pm. Tickets are $20. Visit
www.brownpapertickets.com
.